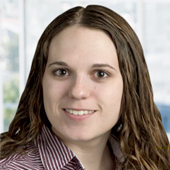 Ashley Fishman
Senior Network Engineer
---
Ashley has been in the IT field since 2012. She is both Microsoft and CompTIA certified, and earned a Bachelor of Science from Illinois State University. She is a certified systems administrator with strong experience managing server infrastructures and data-center operations across Windows, Mac OS X, and Linux platforms. Effectively plans, installs, configures and optimizes IT infrastructures to achieve high availability and performance.
She has proven her ability to create and deliver solutions tied to business growth, organizational development and systems/network optimization. She is a skilled problem identifier and troubleshooter comfortable managing systems and projects in a range of IT environments.
She prides herself on quick and thorough turn-around on requests paired with attentive customer service.